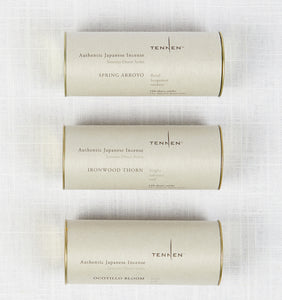 Sonoran Desert Incense Cylinders
Regular price
$ 60.00
$ 0.00
Sonoran Desert Incense Cylinders by Tennen
Sarah Swartz Wessel and Ethan Wessel of Phoenix-based Tennen partnered with a workshop in Kyoto to develop their incense, starting with this series inspired by the Sonoran Desert. 
Spring Arroyo – a verdant floral, energized by bergamot.
Ironwood Thorn – a bright mix of tobacco and oud
Ocotillo Bloom – a fresh, soft and earthy blend
Use for meditation, relaxation, stress reduction, massaging, reading, yoga, and bathing.
To use, place in an incense holder, light tip, gently blow out flame once tip is red and enjoy.
Contains 100 sticks per cylinder. Each stick is 2.75 inches long with an approximate burn time of 15+ minutes. 
 4" h x 1.75" d