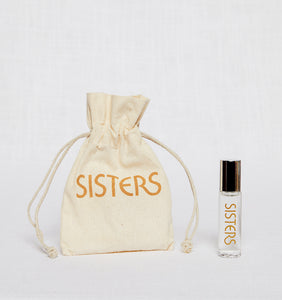 Sisters Perfume Oil
Regular price
$ 48.00
$ 0.00
Perfume Oil by Sisters
The Sisters Earth Tones perfume oil is an earthy, sensual scent with undertones of sandalwood and musk. Think of it as a unisex scent for the person who isn't super into perfume. Subtle, but sexy. Hippie, but chic. The longer you wear it the more personalized it becomes. 
Roll it on your pulse points, such as your wrists and neck or behind your ears. The scent oil will last for around 3-4 hours and should be reapplied as often as needed.
Ingredients: organic coco nucifera (coconut) oil, 100% natural fragrance
Each bottle is 9ml and made with no chemical fragrance. Phthalate-free, paraben-free, gluten-free, vegan, and not tested on animals.
Please note this item is final sale.