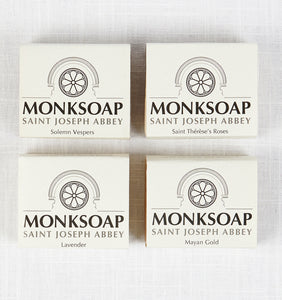 MONK SOAP
Regular price
$ 9.00
$ 0.00
MONK SOAP 
Artisanal soaps made by the monks at Saint Joseph Abbey in Southern Louisiana.
"When monks work with their hands, as our fathers and the apostles did, then they are really monks." - Rule of Pain Benedict
Ingredients:
Saponified oils of soy, coconut, and rice bran, distilled water, shea butter and fragrance
4 oz.
Dimensions: 2.75" h x 3" w x 1.25" d

Please note that this item is final sale.