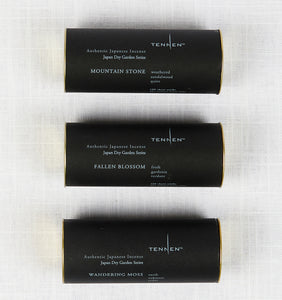 Japan Dry Garden Incense Cylinders
Regular price
$ 60.00
$ 0.00
Japan Dry Garden Incense Cylinders by Tennen
Made in Kyoto, this incense is inspired by the experience of walking among the rocks, moss, sand and streams of a Japanese dry garden.
Mountain Stone – a quiet blend of weathered sandalwood
Fallen Blossom – a fresh gardenia paired with green notes
Wandering Moss – an earthy mix of oakmoss and cedar
Use for meditation, relaxation, stress reduction, massaging, reading, yoga, and bathing.
To use, place in an incense holder, light tip, gently blow out flame once tip is red and enjoy.
Contains 100 sticks per cylinder. Each stick is 2.75 inches long with an approximate burn time of 15+ minutes. 
 4" h x 1.75" d