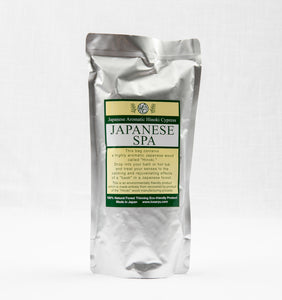 Hinoki Cypress Aroma Flakes
Regular price
$ 10.00
$ 0.00
Hinoki Cypress Aroma Flakes from Tosaryu
Bathe in a Japanese forest for a moment of sublime peace and relaxation.
These bath flakes are taken from fragrant Hinoki Cypress from the Shimanto area of Kochi Prefecture, Japan.  From the moment you unpackage the bath flakes, you will be surrounded by the soothing aroma of Hinoki. You may submerge this bag in your tub for a relaxing time in your bath. After use, hang the bag up to let it dry and reuse the same bag a few times. For multifunctional use, hang this bag up in a room to deodorize it, or hose the bag down with water to use it as a humidifier. Mixed with dried Hinoki leaves, flakes come wrapped in a fabric bag.
Through responsible logging, Tosaryu keeps forests healthy and rivers clean. Ample forests reduce carbon dioxide in the air to offset any emissions put out in producing goods to ship to market. Tosaryu strives to use all parts of the tree, including branches and leaves, in order to reduce CO2 emissions to the greatest extent possible. For example, Hinoki leaves are used for oil in our soap. The branches are used to make aromatherapy flakes. And anything that is still left over becomes the composite wood used in our lightweight cutting boards.
It is Tosaryu's mission to continue to develop wood products that play a role in the creation of a cheerful, comfortable lifestyle and a green future for all.
Each package contains two bags.
2" W x 4" L