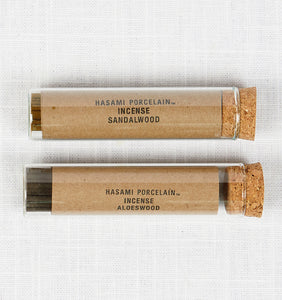 Hasami Porcelain Japanese Incense
Regular price
$ 18.00
$ 0.00
Japanese Incense by Hasami Porcelain
Hasami Porcelain has collaborated with Nippon Kodo, one of Japan's most renowned incense makers to create a beautiful little incense set comprising of 24 incense sticks contained in a beautiful glass vial and cork stopper.
These incense are all handcrafted in Japan and have a burn time of roughly 20 minutes per incense stick.
Sandlalwood : Soft sandalwood and Chinese medicinal herbs fill your room with a mellow, woody scent, producing a calming, relaxed atmosphere.
Aloeswood : A woody scent, prized around the world for its rich fragrance. Known for it's calming and focusing qualities.
Use for meditation, relaxation, stress reduction, massaging, reading, yoga, and bathing.
To use, place in an incense holder, light tip, gently blow out flame once tip is red and enjoy.
4.25" h x  1" d
Made in Japan.