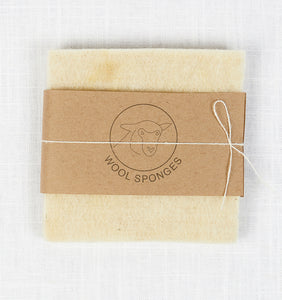 Full Circle Wool Natural Sponges
Regular price
$ 9.00
$ 0.00
Wool Sponges by Full Circle Wool
Use these wool sponges to do the dishes, to wash your face & body, or to clean surfaces. Clean and durable, these sponges do not get gross or smelly, and last for a long time. Because wool is naturally antimicrobial and antifungal, they do not harbor molds and bacterias. When you're done with them, they are compostable.
100% Climate Beneficial Wool
Wool sourced from Ferndale Farms in Ferndale, CA. This wool comes from well-tended sheep raised in Northern CA, benefiting the landscape, climate, and local economy.
Pack of 2 Sponges
5"  x 5"  (these sponges do shrink a bit once they get wet)