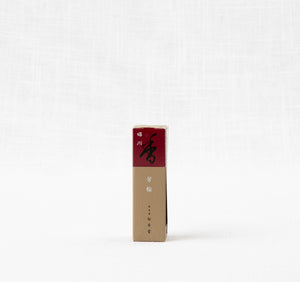 Horikawa River Path Incense
Regular price
$ 26.00
$ 0.00
Horikawa River Path Incense from Shoyeido
Horikawa is made from a recipe perfected by Shoyeido's master incense crafters over 30 years ago. It remains one of the brand's most in-demand incenses. One sniff of the high quality sandalwood, perhaps some of the best in the world, makes its popularity understandable. A perfect, transcendent blend of all-natural materials including sandalwood, cinnamon and frankincense will tantalize the senses. Horikawa is rich, complex and slightly sweet. It fills a space like toasted cinnamon bread on a cold morning. Its amber warmth and kitten fur softness will have you reaching for it regularly. 

Box of 20 sticks including biodegradable incense holder, 2.75 "
Approximate burn time per stick: 20 minutes

Please note that the Horikawa incense sticks are thicker than the average stick, producing more smoke and scent during the burn time.