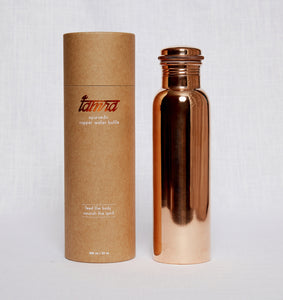 Ayurvedic Copper Water Bottle
Regular price
$ 57.50
$ 0.00
Ayurvedic Copper Water Bottle by Tamra
Unengraved and unlacquered, pure copper water bottle with a screw-top lid. Holds 30 oz (900ml). 
Please note, this should only be filled with water. And over time with use, a deep patina will develop.
Handwash in warm, soapy water. To remove tarnishes, use copper polish or lightly rub a cut lemon sprinkled with a bit of salt over the exterior and rinse well.
To refresh the inside of the bottle, fill the bottle with equal parts white vinegar and water. Let sit for 1 hour, empty, and wash thoroughly with warm soapy water.
If the lid becomes difficult to remove, wipe the threads clean and dab it with edible oil.
Measures 10.5" tall and 3" in diameter